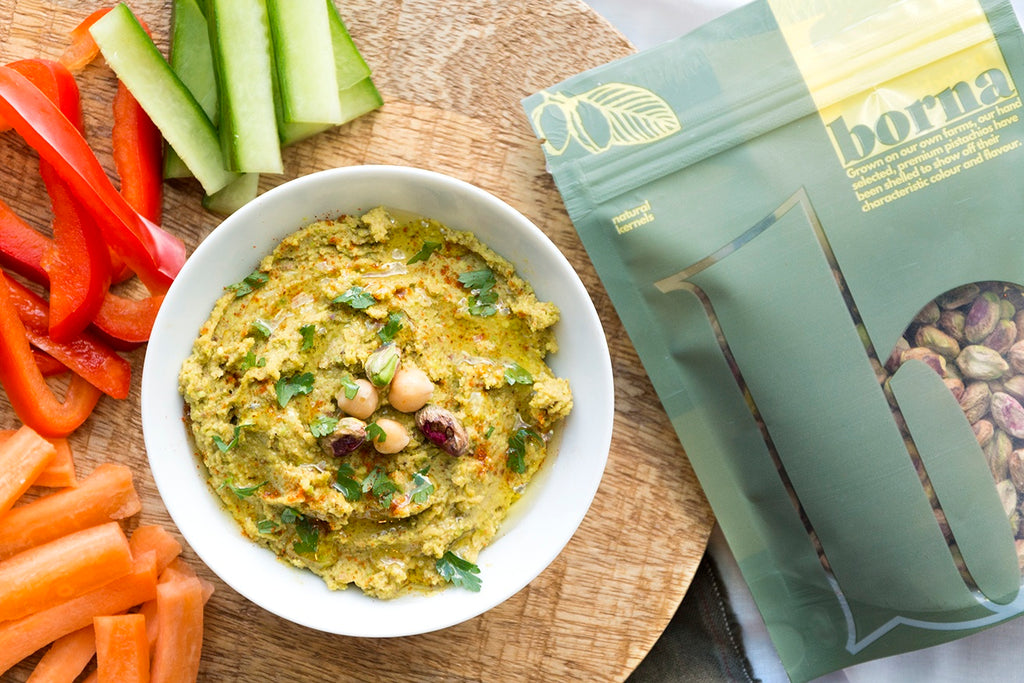 Happy Hummus Day! We are joining the millions around the world celebrating our love for hummus. Hummus can be eaten anywhere and everywhere, enjoy it for it for breakfast, lunch or dinner!
This ancient dish is believed to first be consumed in Egypt around the 13th century. So I thought what better way to eat the hummus than with an ancient nut, the pistachios! Traditionally Hummus is made with tahini (sesame paste) however I've have swapped this out in exchange for pistachios to add an amazing twist to this dish.
Loaded with goodness, health benefits and most of all flavour, hummus will benefit you in many ways:
♥ Good Source of Plant-Based Protein
♥ Fights Illness and Diseases
♥ Decreases Inflammation
♥ Helps Digestion and Intestinal Health
♥ High in Vitamins and Minerals
♥ Supports Bone Health
♥ Protects Heart Health
♥ Boosts Your Energy
and let's not forget that I have added pistachios to this dish which to has an abundance of health benefits. This dish might as well be called a superfood dish!
Serves 4 people
Ingredients:
Hummus
200g Chickpeas (Drained and washed)
100g Borna Natural Kernels
1 tsp Paprika
Juice 1/2 Fresh lemon
5 tbsp Olive oil
1 tbsp Chickpea brine
2 1/2 tbsp water
1 Garlic clove (peeled and roughly chopped)
1 tsp salt
1 tsp pepper
For Decoration
Fresh parsley
3 chickpeas
Pinch Paprika
3 Borna Natural Kernels
Instructions:
♥ Add all the ingredients in a blender (except for the ingredients for decoration). With a hand blender, blend until completely smooth or if you like your hummus with a little more texture just don't blend as long. Spoon into a dish.
♥ Garnish with chopped parsley, chickpeas, and paprika. Serve with vegetables, pita bread, or pretzels.
You'll be snacking all day with this hummus dish! Don't forget to use the hashtag #hummusday and #nutsaboutborna on Instagram.
Emma Langston, Content Writer at Borna Foods
---