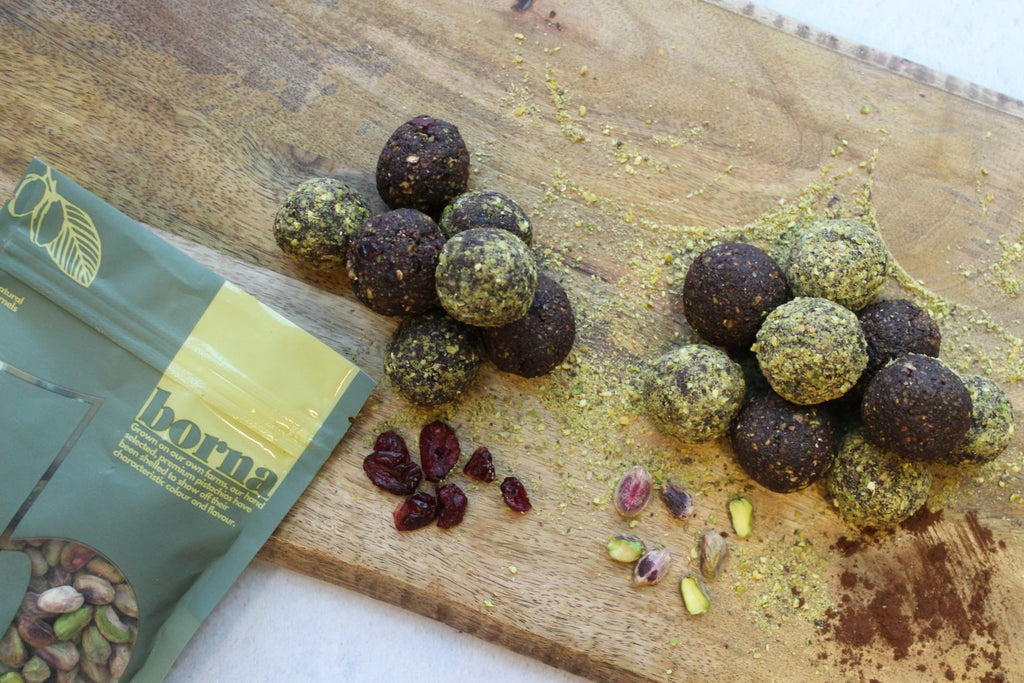 Ingredients:
120g Pistachio Kernels (plus more to dust)
4 Medjool Dates
1 tbsp Honey/ agave/ maple syrup
60g Oats (not cooked)
1 tbsp Cocoa Powder
1 tbsp Water
Directions:
♥ Pulse the pistachio kernels and oats in a food processor
♥ Add the cocoa powder, dates, honey and water until combined. (Add more water if needed to bind- the mixture shouldn't be too wet)
♥ Cover and refrigerate for 10 minutes (to make it easier to work with)
♥ Shape it into your desired size of energy balls. Alternately, you can line a small baking pan with parchment paper, and press the mixture evenly into the pan, let it cool, and then cut into bars.
♥ Coat in some more ground pistachio kernels (optional)
♥ Enjoy! Make a big batch and store in the refrigerator for up to 2 weeks.
Feeling Fruity?
Add 50g of cranberries and use 3 dates instead of 4 to add some tartness to your energy balls!
We hope you enjoyed this recipe. Take a look at our shop for our delicious natural kernels. Don't forget to tag us with your creations using our hashtag #nutsaboutborna
Ciara Simpson, Content Writer at Borna Foods
---