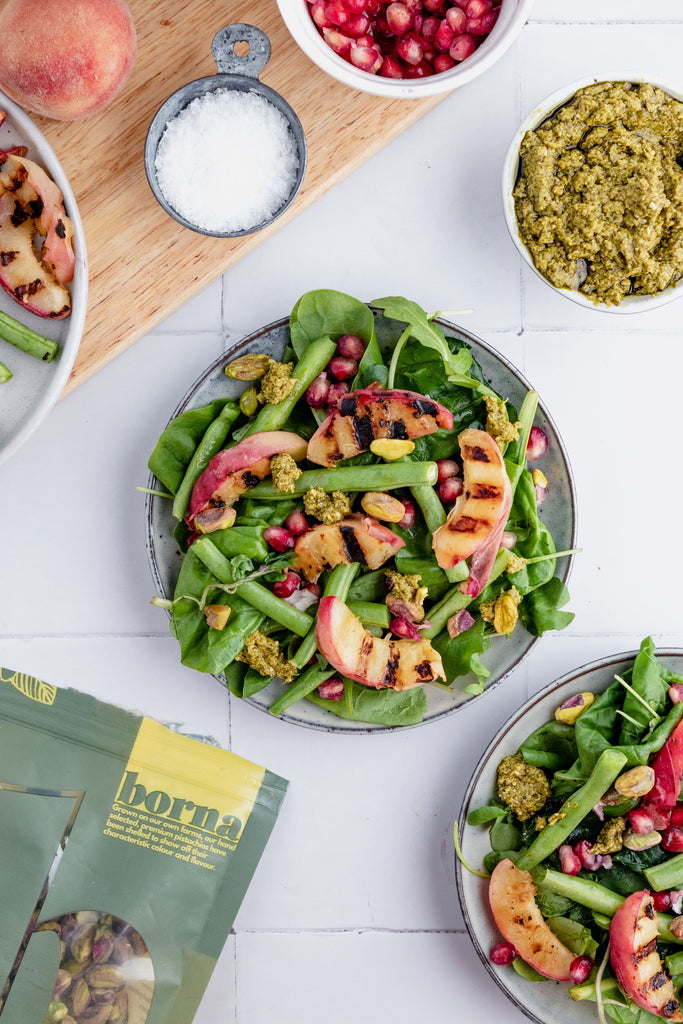 If you love barbecue season just as much as us, you should try this delicious summer salad with grilled peach and pistachio pesto! 
Directions
Pesto:
1. Put all the ingredients and a pinch of salt into a blender or food processor. Whiz together.
Salad:
1. In another medium-sized bowl, add the Rocket and 1 Tablespoon of olive oil. Toss this around until the leaves begin to soften, add salt/pepper to taste and set aside.
2. Slice your peaches and brush with olive oil.
3. Place these directly on the grill and cook for 3 minutes on each side.
4. Assemble the salad - Place the rocket on the bottom, then beans and peaches. Cover the salad with the pomegranate seeds, pistachios and pistachio pesto. .
Enjoy!
Ingredients
2 Bunches Fresh Rocket
2 Sliced Fresh Peaches
Seeds from 1 Pomegranate
1 tbsp Olive Oil
Salt & Pepper
Pistachio Pesto:
1 bunch basil
1 bunch flat-leaf parsley
1 small, peeled garlic clove
200g Green Beans
3 tbsp shelled pistachios
zest of 1 lime
2 tsp lime juice
100ml olive oil
Try this extremely easy Grilled peach and pistachio salad recipe using our and let us know what you think! Tag us in your delicious re-creation on Instagram or Facebook! Use hashtag #nutsaboutborna to be featured!
Subscribe to our newsletter and follow us on Instagram & Facebook for more healthy recipes and product updates!