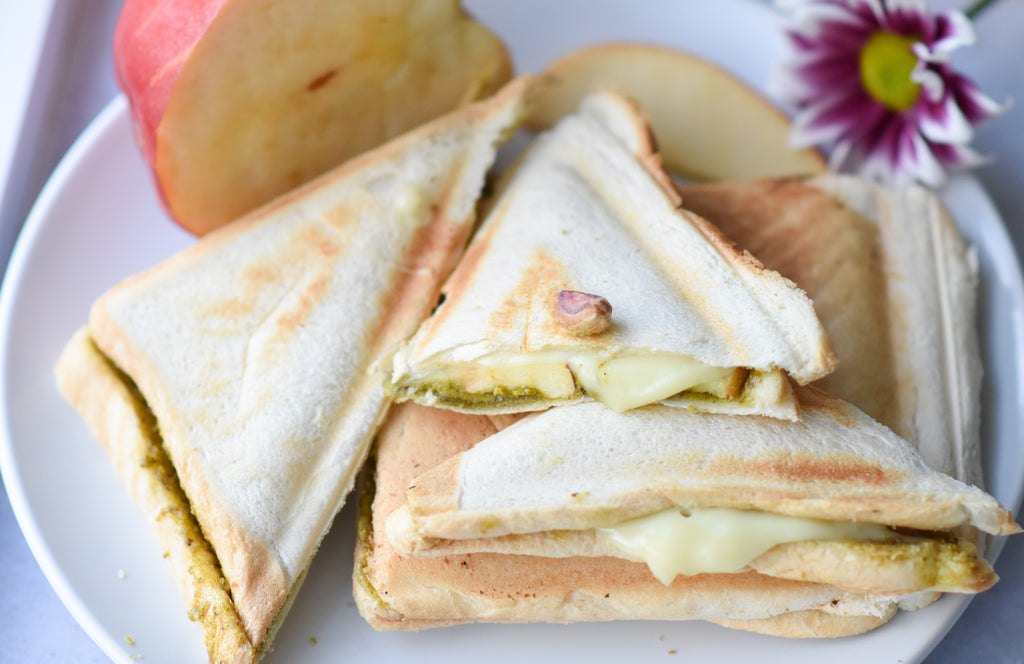 We're not sure if you're ready for this, but we need you to trust us here. 🙂
We're asking you to spread some pistachio butter on your grilled cheese and add a slice of apple. That's right!

You will notice that this combination is so good together and it's a great way to get your kids eating fruit. They're so easy and delicious.
Ingredients
♥ 1/2 cup Sweet Roast Pistachio Butter
♥ apple, peeled, cored, and thinly sliced
♥ 4 slices bread
♥ 2 slices of cheese
♥ 1 tsp cinnamon and sugar, if preferable
Instructions
Mix cinnamon and sugar together in a small bowl.
Place cheese onto one side of 2 slices of bread.
Arrange apple slices on other 2 slices of bread.
Sprinkle the cinnamon/sugar mixture evenly over the apples.
Top with the remaining 2 slices of bread,

 

Sweet Roast pistachio butter

 

face down.
Fry sandwiches over medium heat until browned, about 1 to 2 minutes on each side.
Try our Grilled Cheese and Apple Sandwiches made together with Sweet Roast Pistachio Butter and let us know what you think! Tag us in your delicious re-creation on Instagram or Facebook! Use hashtag #nutsaboutborna to be featured!
Subscribe to our newsletter and follow us on Instagram & Facebook for more healthy recipes and product updates!
Inesa Slevaite, Marketing Executive at Borna Food
---