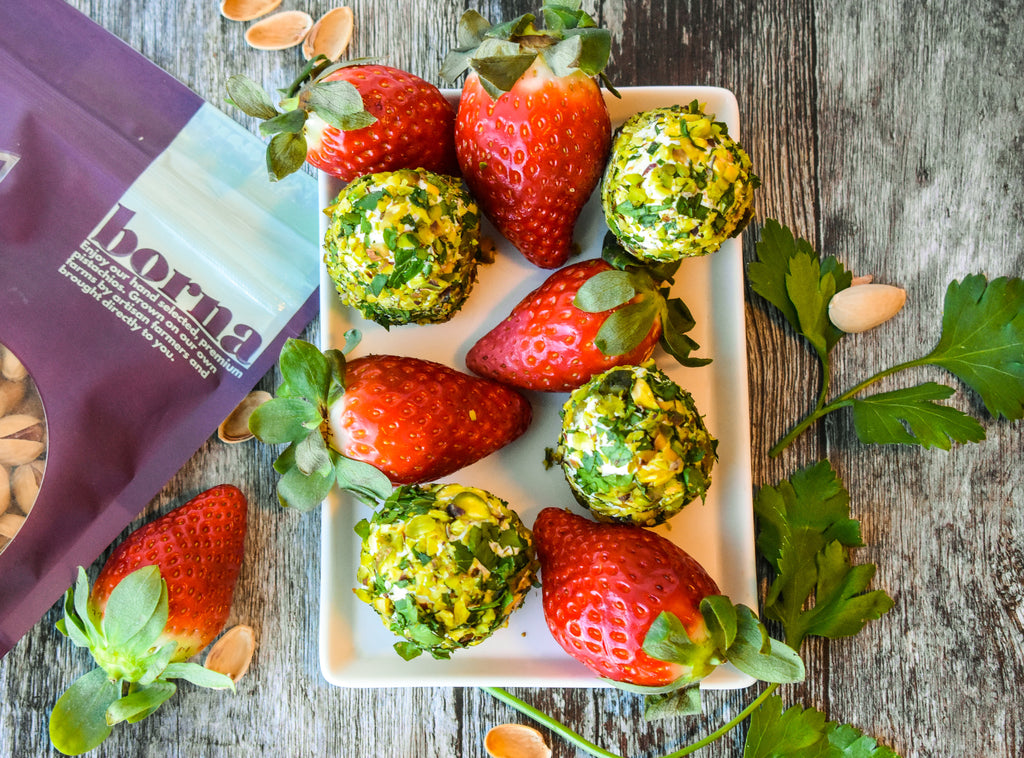 Extremely sweet and creamy – loved and adored by young and old – Strawberries Covered in Goat Cheese and our Simply Roasted Pistachios are so abundant and couldn't be tastier.
If you want a refreshing appetizer or some easy finger food – it's a perfect match for you. This simple yet delicious healthy appetizer will impress everyone! We love that these strawberries covered in goat cheese with our chopped Simply Roasted Pistachios are simple and quick! Here is what you'll need to do to make them:
Nutritional Value (per serving) |199 Kcal |15g Fat | 10g Protein | 2g Fibre |3g sugar |
Ingredients
♥100g of plain soft goat cheese
♥ pinch of salt
♥ 0.17 tsp honey
♥ 0.33 tsp fresh thyme leaves
♥ 8 strawberries, washed, dried and stems removed
♥ 0.5 cups Simply Roasted Pistachios
♥ 0.33 tsp fresh basil leaves chopped
♥ 0.33 tsp fresh parsley leaves chopped
Instructions
1. In a small bowl, mash the goat cheese with a fork to soften it up and season it with salt, pepper, thyme and honey. Mix it well and set aside.
2. Mix the pistachios and fresh basil in a separate wider bowl and set aside.
3. Take a slightly smaller than golf size ball of the goat cheese mixture and flatten it on the palm of your hand into an about 1/8-inch-thick circle.
4. Dip the goat cheese covered strawberry into the pistachio-basil mixture and use both hands to carefully fold the cheese around the strawberry and begin rolling it around. This doesn't have to be perfect or even if all the strawberry is covered up with a thin layer of goat cheese.
5. Remove any excess cheese in areas of the strawberry and roll it again if necessary. Place the strawberry in the pistachio plate and roll it around to coat evenly and place on a plate in a single layer. Place the strawberries rolled in the goat cheese with Simply Roasted Pistachios on a plate in a single layer and chill them until it's time to serve. for an hour after they're done so that the cheese can firm up.
6. Chill the goat cheese pistachio coated strawberries in the fridge for at least one hour and serve.
Try this refreshing appetizer's recipe and let us know what you think! Tag us in your delicious re-creation on Instagram or Facebook! Use hashtag #nutsaboutborna to be featured!
Subscribe to our newsletter and follow us on Instagram & Facebook for more healthy recipes and product updates!
Inesa Slevaite, Marketing Executive at Borna Food
---