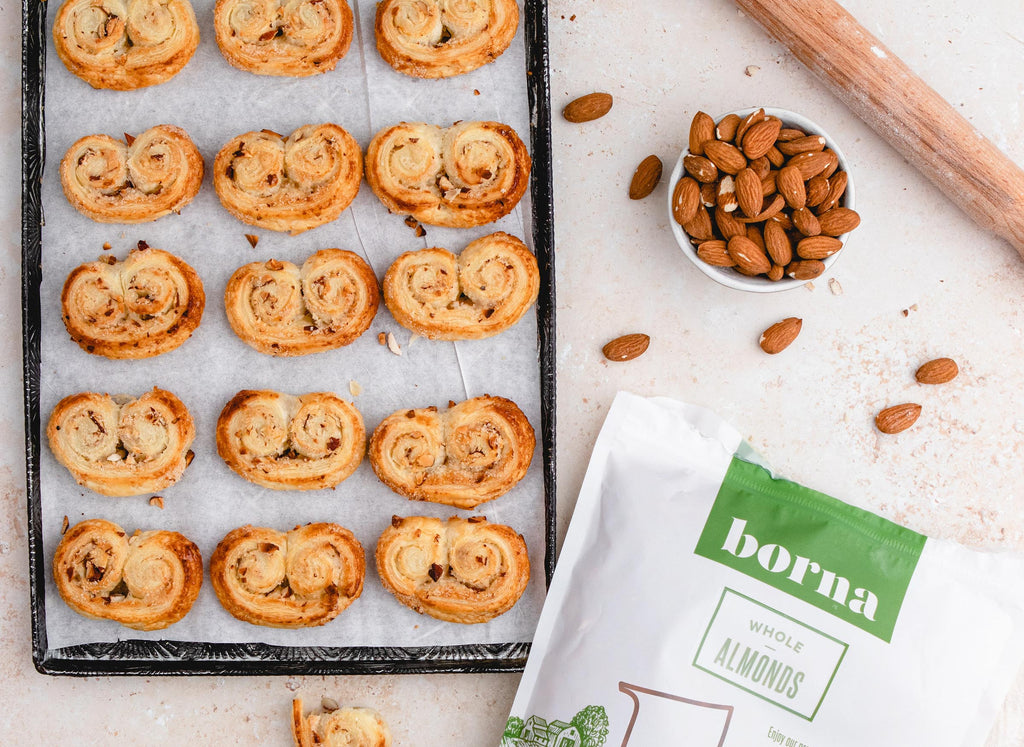 We all know the way to a man's heart is through his stomach. So this 𝑭𝒂𝒕𝒉𝒆𝒓'𝒔 𝑫𝒂𝒚, why not spoil your Dad with these lovely almond palmiers? Yummm. 
Directions
1. Preheat the oven to 200C.
2. Unroll the pastry and flatten into the papper wrapper. Line a cokkie sheet with a parchment paper or a silicon mat.
3. Ground your whole almond nuts.
4. In a small bowl, add the ground almonds, sugar, combined everything with a spoon.
5. Sprinkle almond sugar mixture evenly all over the pastry and use a long flat blade knife if you have one to spread the
mixture evenly on the surface.
6. Place a sheet over the pan and use a rolling pin to lightly roll over the mixture. Be careful
not to roll too hard so you keep the shape of a pastry.
7. Take one long side and tightly roll the pastry toward the middle. Stop when you get to the middle.
8. Then take the other side of the pastry and roll toward the middle. Wrap the pastry in a plastic wrap and pop in a fridge for 20 minuts to firm up.
9. Take the pastry from the fridge and cut the ends to make it tidy. Then cut into 1/4 inch thick slices.
10. Bake for approximately 15-20minuts or until the cookies puff and turn golden brown.
Ingredients
60g light brown sugar
60g whole almond nuts
1 sheet puff pastry
Try this extremely easy Delicious almond palmiers - Happy father's day! recipe using our Whole Almond Nuts, and let us know what you think! Tag us in your delicious re-creation on Instagram or Facebook! Use hashtag #nutsaboutborna to be featured!
Subscribe to our newsletter and follow us on Instagram & Facebook for more healthy recipes and product updates!