Creamy Coconut Lentil Pistachio Curry – Happy Ramadan!
---
May 06, 19
|
Pistachios
Recipe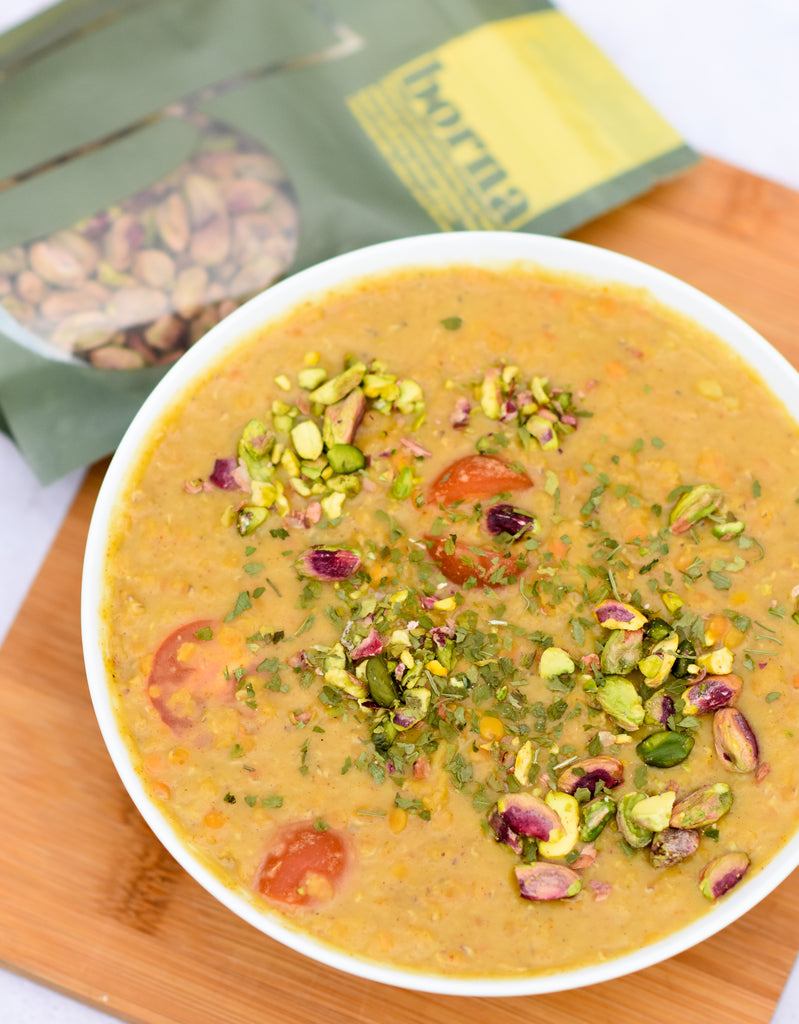 Prepare for Ramadan with energising and creamy coconut lentil pistachio curry recipe to set you up for the day.  This Creamy Coconut Lentil Curry is a healthy vegan recipe that makes a perfect meatless Monday Ramadan recipe. It's easy to make and vegan! It takes less than an hour (mostly hands-off time) to make and is packed full of delicious flavours.
This curry is hearty and delicious and serves as the perfect tool to whet your appetite. Without further ado, Ramadan Kareem (Generous Ramadan)! We hope you enjoy the Creamy Coconut Lentil Pistachio Curry!
Ingredients
♥ 2 tbsp coconut oil
♥ 1 tbsp each: cumin seeds and coriander seeds
♥ 5 cloves of garlic, chopped
♥ 2 tbsp ginger, chopped
♥ 2 tsp sea salt
♥ 1 tbsp turmeric
♥ 1 cup dried red lentils
♥ 1 can coconut milk
♥ A few cherry tomatoes
♥ ½ cup crushed Natural Kernels
Instructions
Heat the coconut oil in a large pot or skillet over medium-high heat. Add the cumin and coriander seeds and toast until they start to brown. Add the garlic to the pot and let it brown.
Add the can of crushed tomatoes, ginger, turmeric, and sea salt to the pot and cook, stirring the pot a few times.
Add the lentils and 3 cups of water to the pot and bring it to a boil.
Reduce the heat to low, cover the pot, and let it simmer for 35-40 minutes, or until the lentils are soft.
Once the lentils are soft, add the coconut milk and cherry tomatoes and crushed

 

Natural Kernels

 

and bring the pot back to a simmer. Remove the pot from the heat and let it rest for a couple of minutes.
Try our Vegan Creamy Coconut Lentil Pistachio Curry recipe and let us know what you think! Tag us in your delicious re-creation on Instagram or Facebook! Use hashtag #nutsaboutborna to be featured!
Subscribe to our newsletter and follow us on Instagram & Facebook for more healthy recipes and product updates!
Inesa Slevaite, Marketing Executive at Borna Food
---