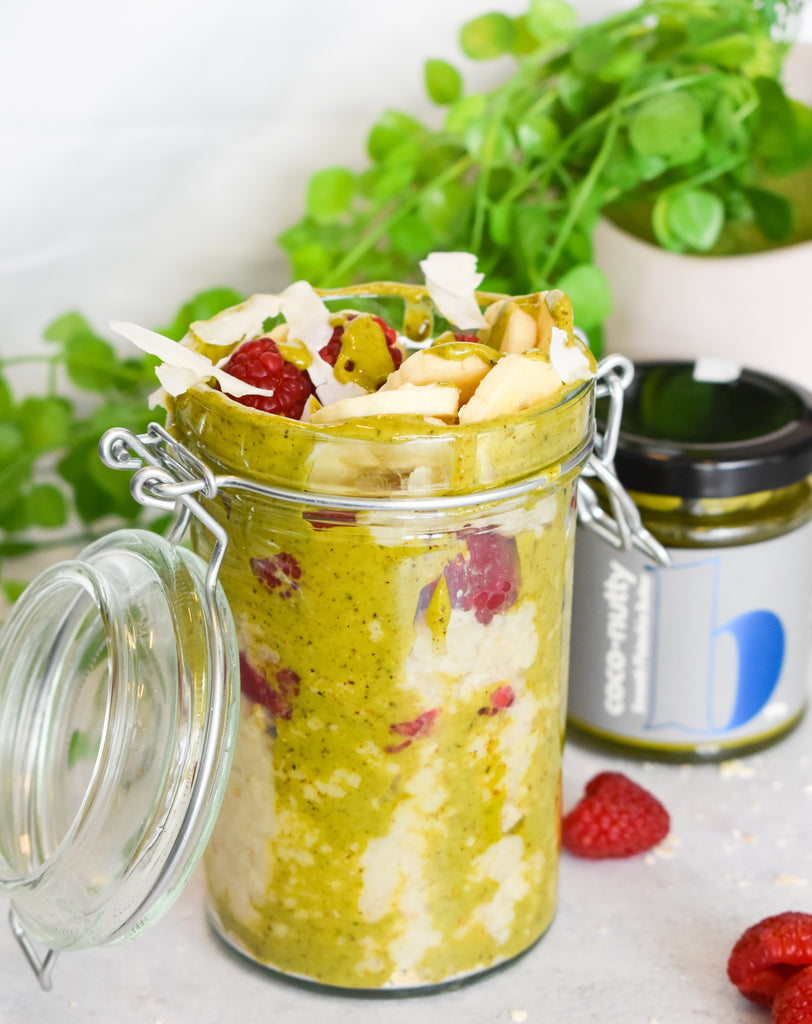 Overnight oats are not only satisfying to eat but they're also high in fibre and antioxidants and VEGAN-FRIENDLY! With its high fibre content, oatmeal is sure to keep you full all morning to conquer the day ahead.
Since everyone seems to hurry to work without having breakfast, you will be very excited to have overnight oats breakfast right there on your counter waiting for you every morning! Yum!
With just a couple of simple ingredients, you can make the most delicious overnight oats with our Coco-Nutty Pistachio Butter recipe on a planet. This overnight oats recipe is a staple in Borna Foods HQ, and we often add other flavours and add-ins to make it even more delicious.
Ingredients
♥ 2 tbsp Coconut Pistachio Butter
♥ 1/2 cup unsweetened almond milk 
♥ 1 tbsp coconut flakes
♥ 1/3 banana
♥ 1/3 cup raspberries
♥ ½ cup oats
Instructions
Place all the ingredient in a jar, shake, cover and refrigerate overnight.
The next morning, add your favourite toppings:

 

Coconut Pistachio Butter, coconut flakes, banana and raspberries.
Tip: prepare the overnight oats in a sealable glass/jar. Then you could take it with you to work in case you still run out of time in the morning.
Always mix well before eating. Play with the flavours, toppings, liquid to oat ratios, and have fun!
Try our Coco-Nutty Overnight Oats recipe and let us know what you think! Tag us in your delicious re-creation on Instagram or Facebook! Use hashtag #nutsaboutborna to be featured!
Subscribe to our newsletter and follow us on Instagram & Facebook for more healthy recipes and product updates!
Inesa Slevaite, Marketing Executive at Borna Food
---