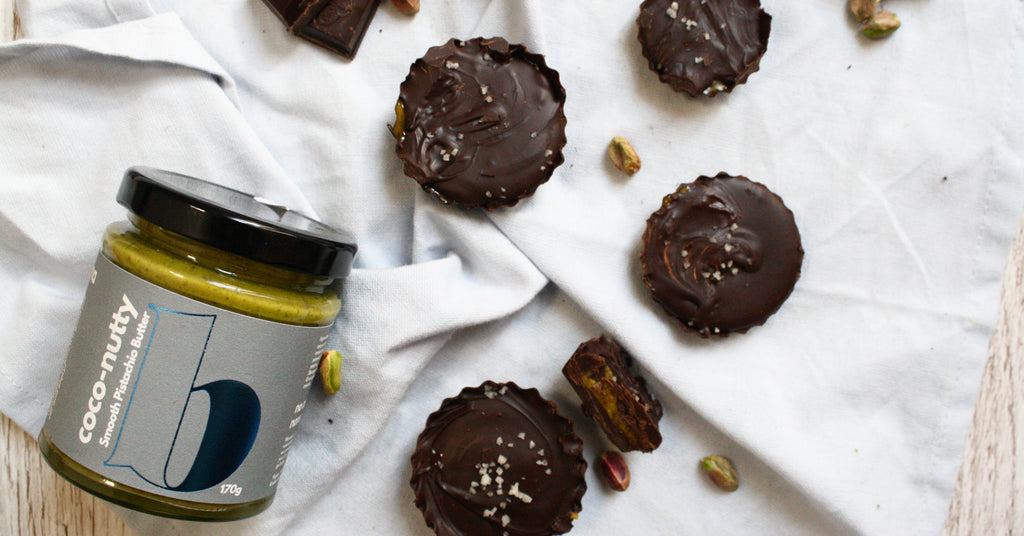 Celebrating Halloween doesn't mean you have to sacrifice quality or nutrition… indulge yourself with high-quality ingredients that leave you satisfied (without the sugar crash!) using our natural Coco-Nutty Pistachio Butter. These treats are easy to make and impressive to share with friends and family. *note you will need silicone muffin liners, or paper muffin liners to make these*
Ingredients:
♥ 150g Dark Chocolate Chips, or chopped bar (¬2/3 c.)
♥ 1/4 c. Coco-Nutty Pistachio Butter
♥ Sea Salt
Instructions:
♥ Melt half of the chocolate in the microwave, or using a double boiler
♥  Line a muffin tin with liners (mini-muffin tins work best!) pour about 1/2 tbsp chocolate into each. Place in freezer to harden for 10 minutes. I recommend placing the pistachio butter in the freezer to harden slightly as well.
♥ Place 1 tsp of Sweet Roast Pistachio Butter into each mini muffin liner, try to keep it in the centre! Please in the freezer to chill.,
♥  Meanwhile, melt the remaining chocolate, remove muffin tin from the freezer, and add 1-2 tsp chocolate to each liner, enough to cover the pistachio butter. Sprinkle with sea salt and place back in the freezer to harden.
♥Enjoy!
What's your favourite Halloween treat? Put a pistachio twist on your favourite, and share using the hashtag  #nutsaboutborna when posting on Instagram.
Micah Siva, Content Writer at Borna Foods
---