Chocolate Covered Dates with Crunchy 100% Pure Pistachio Butter
---
May 09, 19
|
Pistachios
Recipe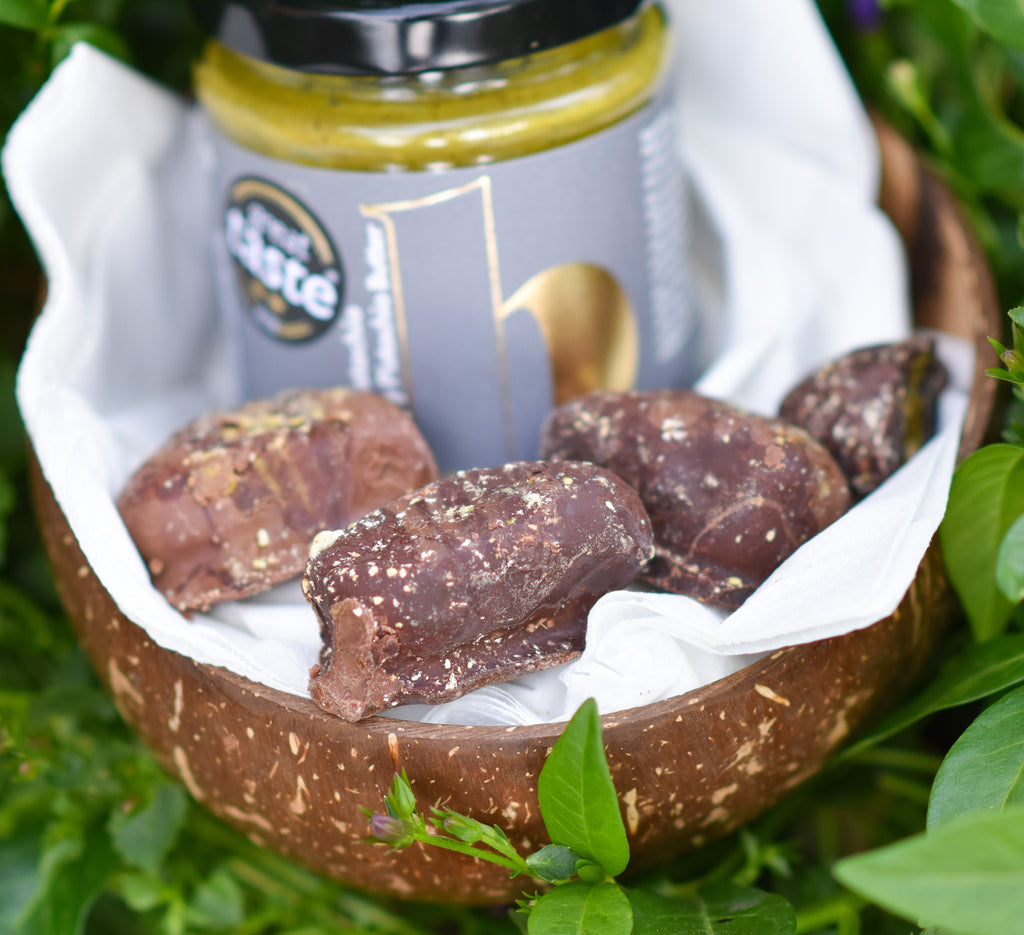 Chocolate covered dates with Crunchy 100% Pure Pistachio Butter are a super delicious and healthy dessert or snack. They're so easy to make and only requires 3 or 4 ingredients: dates, pistachio butter, and dark or milk chocolate.
If you have a sweet tooth but want something delicious, healthy and easy to make, these chocolate covered pistachio butter stuffed dates are for you. They're insanely good and you can have them as a snack or for dessert.
Ingredients
♥ 7 dates, pitted
♥ 1/4 cup Crunchy 100% Pure Pistachio Butter
♥ 90g organic dark or milk chocolate, chopped
♥ Pistachio powder (optional)
Instructions
Fill each date with some Crunchy 100% Smooth Pistachio Butter to taste (about 1/2 tsp). Set aside.
Place the dark or milk, or BOTH chocolates in a saucepan and cook over medium heat, stirring occasionally until the chocolate melts.
Pour the melted chocolate into a bowl.
Dip each date into chocolate mixture until completely covered.
Decorate and add some pistachio powder on top.
Let the chocolate cool down at room temperature and enjoy.
Keep the dates in a sealed container at room temperature or in the fridge for up to a week.
Try our Chocolate covered dates with Crunchy 100% Pure Pistachio Butter recipe and let us know what you think! Tag us in your delicious re-creation on Instagram or Facebook! Use hashtag #nutsaboutborna to be featured!
Subscribe to our newsletter and follow us on Instagram & Facebook for more healthy recipes and product updates!
Inesa Slevaite, Marketing Executive at Borna Food
---