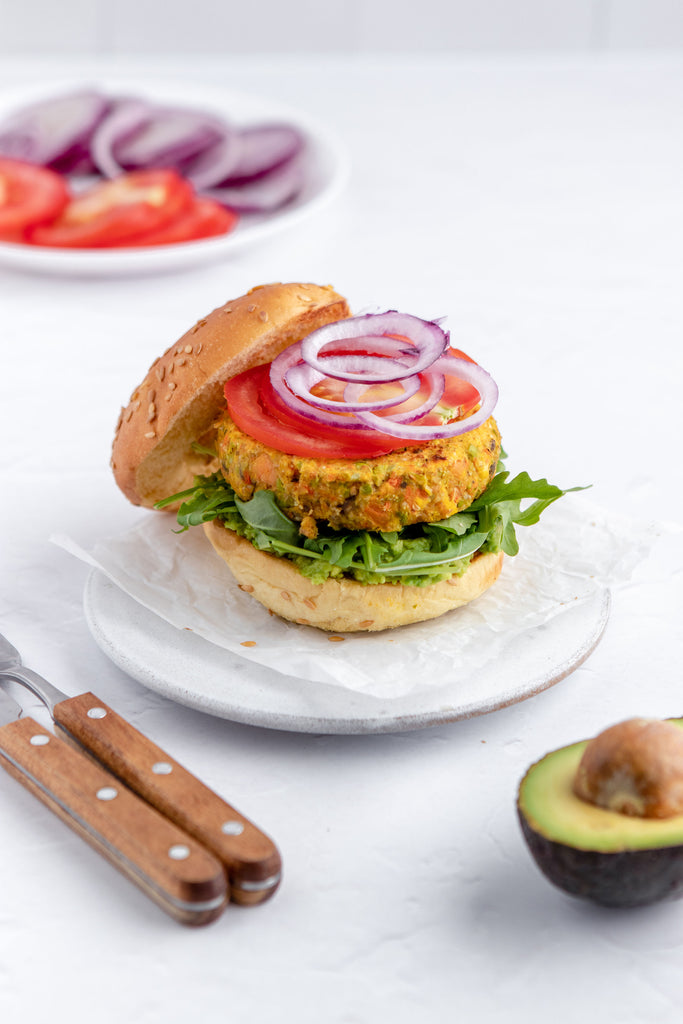 If you love burgers as much as we do, we promise you will absolutely LOVE this chickpea & pistachio burger. It is delicious, vegan, and almost healthy.
Directions
1. In a food processor, mix the chickpeas, lemon zest, pistachios, lemon juice, cumin, half the coriander, the flax egg and some seasoning.
2. Scrape into a bowl and mix with the breadcrumbs and the diced onions. Form 4 burgers and chill for at least 10 mins.
3. Heat teaspoon of oil in a large frying pan over medium-high heat. Fry the chickpea burgers in the hot oil until golden on both sides. This should take around 3-4 mins on each side.
4. Meanwhile, halve the buns and warm for 2 mins in the oven or on a pan.
5. Slice the tomatoes, wash rocket and place to a bowl. Halve the lemon and add a squeeze of lemon juice to the rocket along with a splash of olive oil and a pinch of salt and pepper. Toss together.
6. Spread vegan mayo over each bun half. Pop a chickpea burger on the bottom bun, then place some tomato slices on top. Top with a handful of rocket and sit the other half of the bun on top.
Ingredients
400g can chickpeas, drained
zest 1 lemon, plus juice ½
50g pistachios
1 tsp ground cumin
small bunch coriander, chopped
1 egg or flax egg
100g fresh breadcrumbs
1 medium red onion, ½ diced, ½ sliced
1 tbsp olive oil
4 Seeded Burger Bun
1 Vine Tomatoes
80g Rocket
1 Lemon
50g Vegan Mayonnaise
Try this extremely easy Chickpea & pistachio burger recipe using our Natural Kernels Retail Packs, and let us know what you think! Tag us in your delicious re-creation on Instagram or Facebook! Use hashtag #nutsaboutborna to be featured!
Subscribe to our newsletter and follow us on Instagram & Facebook for more healthy recipes and product updates!