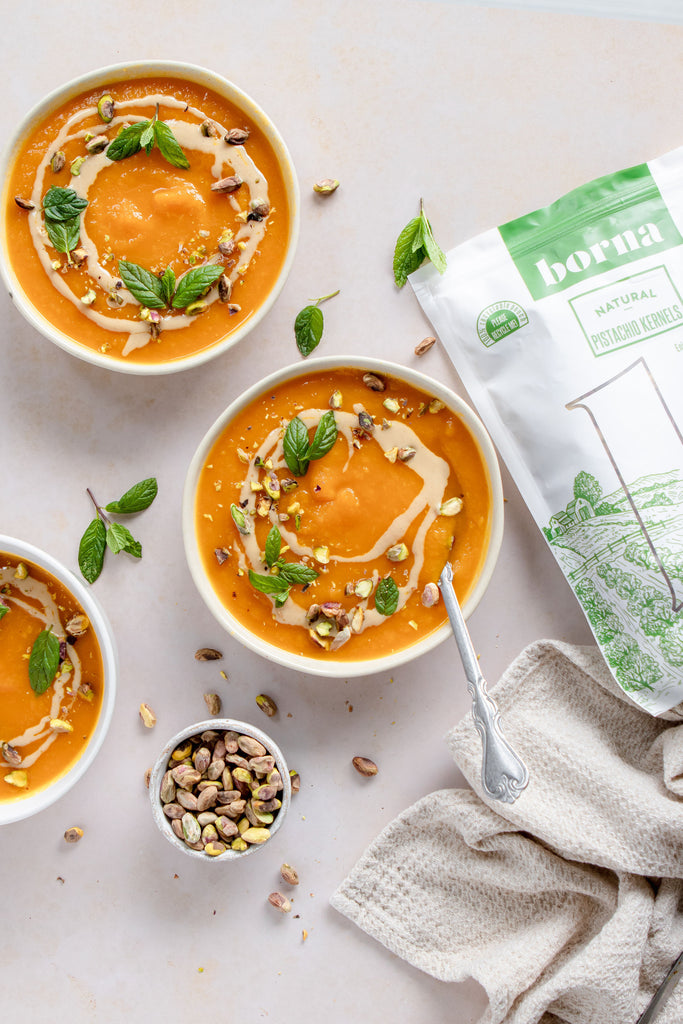 As it's getting colder outside, we thought it was finally time to declare the beginning of soup season! So let's kick off the season with this wholesome carrot soup!
Directions
1. In a large pan heat up the olive oil. Add chopped onion and sauté for 5 minutes.
2. Stir in the smoked paprika, turmeric, salt, pepper, ginger and garlic and cook for 1 minute.
3. Add the carrots and vegetable stock and bring to boil.
4. Reduce the heat and simmer for 30 minutes.
5. Transfer the soup into blender and add tahini or vegan cream. Blend until smooth and creamy.
6. Pour the soup into bowl and top with chopped pistachios, more tahini or cream and fresh herbs.
(If you do not like spicy soups avoid adding ginger)
Ingredients
500g chopped carrots
1 white onion
2 garlic cloves
60 ml tahini or vegan cream
1 tbsp chopped ginger (optional)
600-700ml vegetable stock / water
1 tsp smoked paprika
1 tsp turmeric
Salt and Pepper to taste
1-2 tbsp olive oil
50 g roasted pistachios, chopped
More tahini for drizzle
Try this extremely easy Carrot soup with pistachios and tahini recipe using our and let us know what you think! Tag us in your delicious re-creation on Instagram or Facebook! Use hashtag #nutsaboutborna to be featured!
Subscribe to our newsletter and follow us on Instagram & Facebook for more healthy recipes and product updates!