Apple, Beet, & Carrot Slaw with Smooth Pistachio Butter
---
May 03, 19
|
Pistachios
Recipe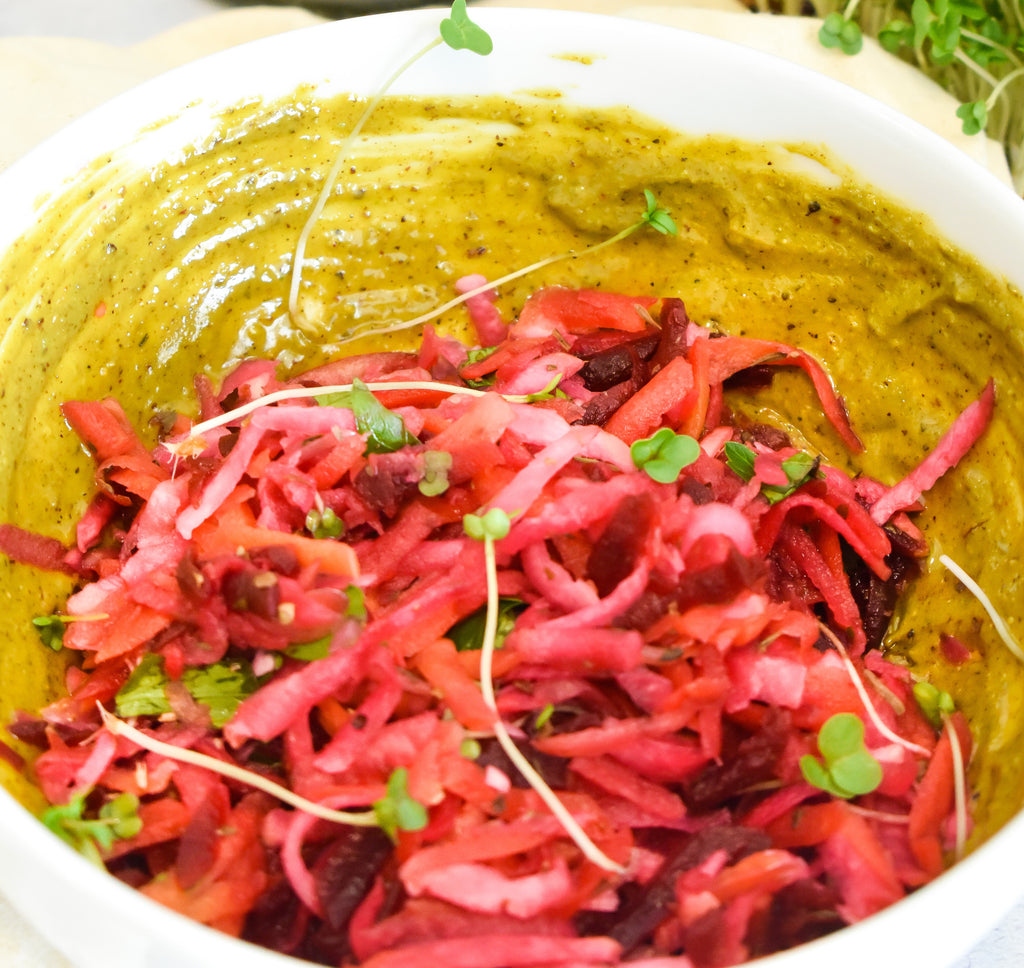 This easy apple, beet & carrot slaw with Smooth Pistachio Butter is bursting with bold colors & flavors! The crunch of the honey crisp apple perfectly complements the bite of the watermelon radish and vinegar beets.
This healthy coleslaw is so easy to make and you won't even notice that it has fewer calories – it has the same great taste as classic creamy coleslaw! Perfect on its own or with cold meats or even a couple of sausages.
Ingredients
♥ 3 tbsp Smooth 100% Poor Pistachio Butter
♥ 1 garlic clove, crushed
♥ 2 large honey crisp apples
♥ 2 carrots
♥ 1 watermelon radish
♥ 2 vinegar beets
♥ 2 tbsp freshly squeezed lemon juice
♥ 1-2 tbsp extra-virgin olive oil
♥ 1/2 tsp sea salt and pepper
Instructions
Grate the apples, carrots, and watermelon radish.
Slice and cut the beets into a fine julienne.
Discard the garlic from the vinegar raisins and add the finely julienned mix to the large mixing bowl with garlic.
Add the lemon juice, most of the parsley and season generously with salt and black pepper.
Drizzle over some of the extra virgin olive oil and toss gently to coat.
Serve: Spread a layer of Smooth 100% Pure Pistachio Butter onto each plate or within one large serving dish and top with the slaw. Garnish with the remaining herbs and finish with a drizzle of olive oil. Enjoy immediately.
Satisfying, crunchy, slightly sweet apple, beet, & carrot slaw with pistachio butter. Chomp away!
Try our Apple, Beet, & Carrot Slaw with Smooth Pistachio Butter recipe and let us know what you think! Tag us in your delicious re-creation on Instagram or Facebook! Use hashtag #nutsaboutborna to be featured!
Subscribe to our newsletter and follow us on Instagram & Facebook for more healthy recipes and product updates!
Inesa Slevaite, Marketing Executive at Borna Food
---