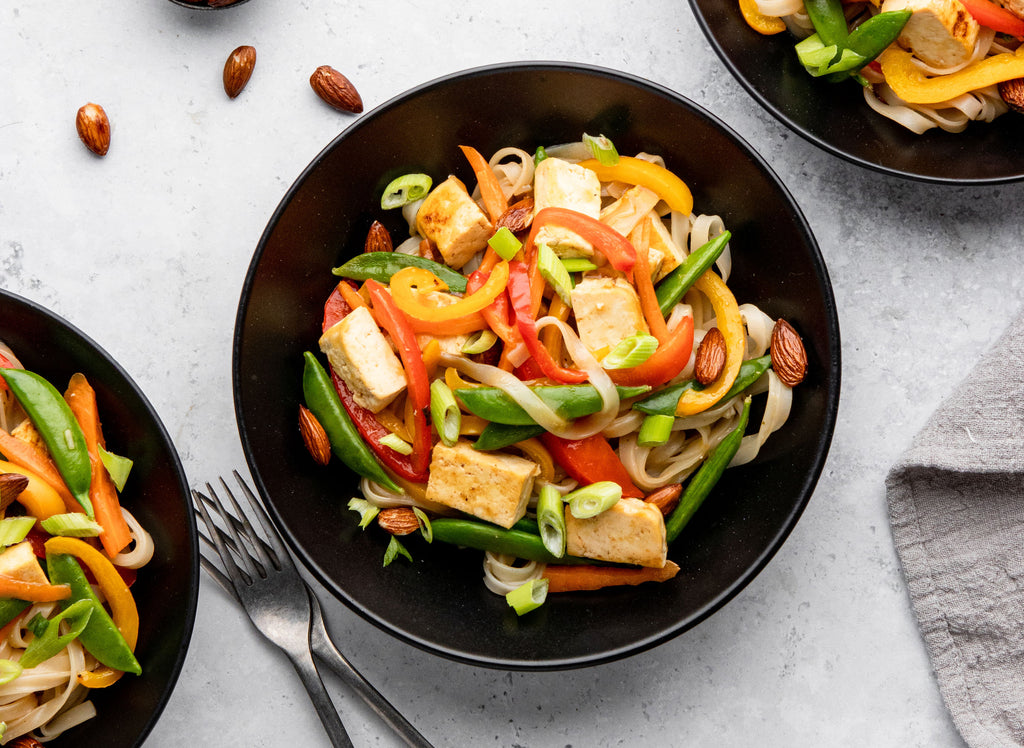 This scrumptious stir fry serves 2, with a prep time being 20 minutes and a total cooking time off just 30 minutes.
Directions
Cook the noodles according to the pack instructions, then drain and rinse under cold water to stop them cooking further.
In a large skillet over medium heat, cook almonds in oil for 3 minutes.
Add chopped tofu, red pepper, sugar snap peas, garlic and cook for 3-4 minutes or until the veggies are just starting to soften.
In a small bowl, combine corn starch, broth, soy sauce, honey and ginger until smooth; add to the pan.
Reduce to minimum add the cooked rice noodle to the skillet.
Toss and continue to cook for another 2 minutes until the sauce has thickened slightly and coats the noodles.
Serve topped with fresh green onion and sesame seeds if desired.
Ingredients
100 grams whole unblanched almonds
30 ml sunflower or canola oil
250 g rice noodles
1 package sugar snap peas
1 garlic clove, minced
1 red bell pepper, thinly sliced
1 yellow pepper, thinly sliced
1 green onion, thinly sliced
Sauce:
1 tablespoon corn-starch
120 ml vegetable broth
3 tablespoons soy sauce
2 teaspoons honey
1 teaspoon ground ginger
Try this extremely easy Almond stir fry recipe using our Whole Almond Nuts, and let us know what you think! Tag us in your delicious re-creation on Instagram or Facebook! Use hashtag #nutsaboutborna to be featured!
Subscribe to our newsletter and follow us on Instagram & Facebook for more healthy recipes and product updates!