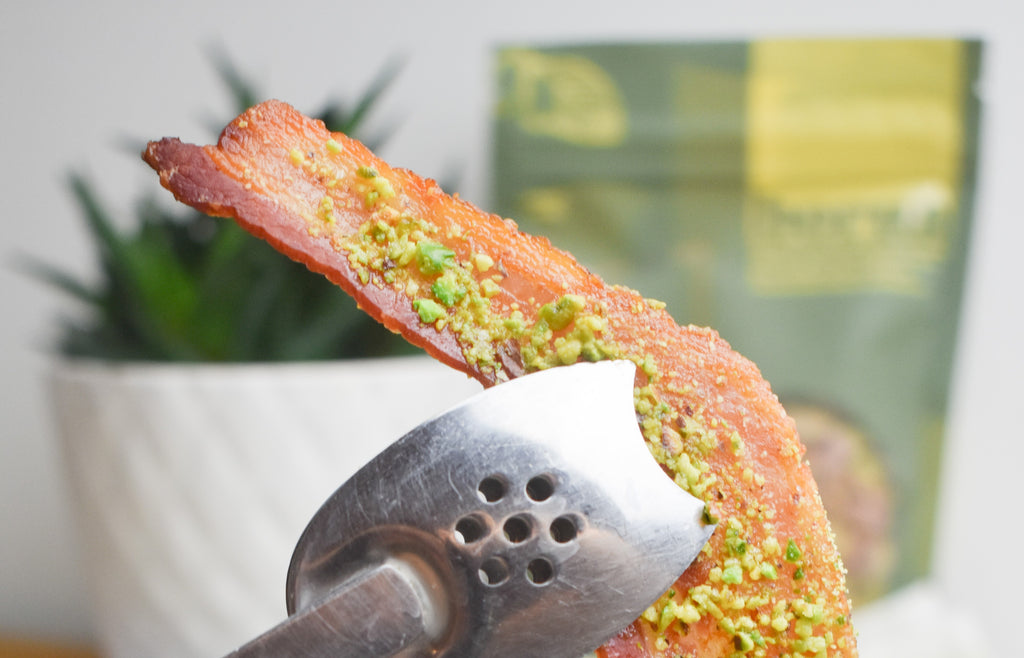 These bacon strips are glazed with maple sugar and our crushed Natural Kernels, which makes them sweet, savoury, crisp and addictive! Great as a party snack, breakfast meat or the world's best BLT.
We suggest using uncured bacon which is bacon that hasn't been cured with sodium nitrites. Usually, it's cured with a form of celery, which contains natural nitrites, along with plain old sea salt, and other flavourings like parsley and beet extracts.
Nutritional Value (per serving) | 136 Kcal |8g Fat | 7g Protein |8.9g Sugar
Ingredients
♥ 1 package uncured, sugar-free bacon (use vegan bacon if preferable)
♥ 1-2 tbs maple sugar
♥2 tbs Natural Kernels, chopped/crushed
Instructions
1. Turn oven to 200 degrees.
2. Cover a baking sheet with cooking paper. If you have one, place a cooling rack on top of the foil to help separate bacon from the grease.
3. Spread bacon across the sheet and cook it in the oven for around 15 mins.
4. While cooking, crush Natural Kernels using a food processor. In a small bowl, mix together your sugar and pistachios and set aside until ready for use.
5. Remove from oven and coat/sprinkle each piece with the crushed Natural Kernels/maple sugar mixture on bacon.
6. Place bacon back in oven until cooked to your liking. We cook ours for about 5 more minutes. Remove from oven and briefly cool before serving.
Try our easy Uncured Bacon Coated in chopped Natural Kernels recipe and let us know what you think! Tag us in your delicious re-creation on Instagram or Facebook! Use hashtag #nutsaboutborna to be featured!
Subscribe to our newsletter and follow us on Instagram & Facebook for more healthy recipes and product updates!
Inesa Slevaite, Marketing Executive at Borna Food
---