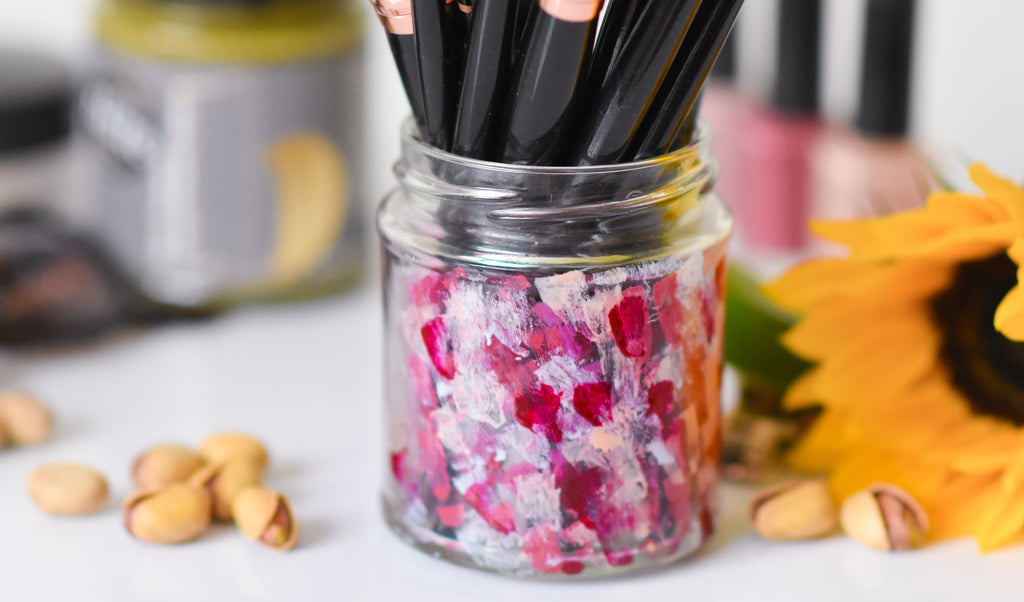 After using so many units of pistachio butter, we come up with new ideas, how we could use the empty jars. Best of all, it's a great way to reuse glass jars instead of simply recycling them. Therefore, this time we made a DIY make-up brush holder. All you need to add to the jar is paint!
Materials:
♥ An empty Pistachio Butter jar
♥ Soft bristle brushes/foam daubers
♥ Mild soap and water
♥ Paper towels
♥ Any paint that can stick to glass
Instructions:
First, wash the glass thoroughly in warm, soapy water to remove pistachio butter leftovers and grease film.
Next, rinse the glass in warm water and let dry completely.
Dampen a paper towel with rubbing alcohol or white vinegar and wipe the stemware to ensure it is clean of any remaining soap film.
Set aside for 15 minutes to air-dry.
The pistachio butter glass surface is now ready for paint.
Use your imagination to create your masterpiece.
Tips: you can also use a painted glass jar to hold your pencils, pens, scissors, etc.
Instead of throwing pistachio butter jars away, turn them into useful and beautiful additions to your garden, office or home! Don't forget to let us know what you think! Tag us in your beautiful re-creation on Instagram or Facebook! Use hashtag #nutsaboutborna to be featured!
Subscribe to our newsletter and follow us on Instagram & Facebook for more recycling ideas!
Inesa Slevaite, Marketing Executive at Borna Food
---