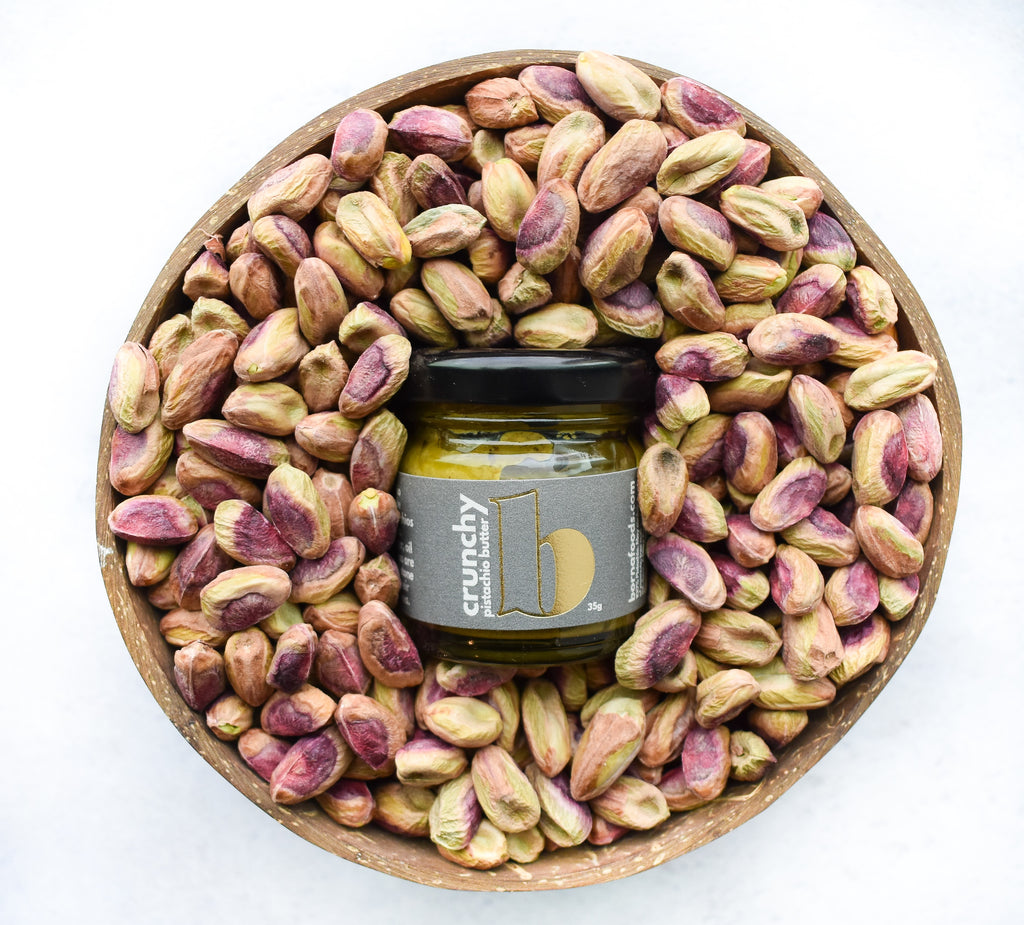 Regardless of whether you're a fan of pistachios or no, if you've ever purchased any of our Borna products on our website, Amazon, eBay or Whole Foods Stores, you've probably wondered about the price. Our pistachios or pistachio butters come in at a more expensive rate than almonds or peanuts or any other nut butters and there are several good reasons why this the case is.
Pistachios are one of the world's most advantageous and perhaps most delicious nuts. Their distinctive green fruits harvest up in everything from savoury dishes to desserts and salads. They may be most known on their own, as a midday snack: dry-roasted and gently salted to perfection or flavoured with natural ingredients like our Snack Packs. Separating the nuts from their shells is almost as fulfilling as the flavour itself, which is rich, nutty, somewhat hearty with a bit of sweetness. There really is no other nut like them which makes our brand very unique.
You have probably heard already pistachios grow only in a few places in the world. Pistachio trees are a local desert plant and can survive in poor soil with unfriendly weather conditions, if there's sufficient root drainage, you can find more information about them here. They do have two requirements: cool winters and long, hot summers with low humidity for a proper maturing. Shockingly, this really restricts the areas of the world where they can be grown, therefore, you can get most of the pistachios from Iran, USA and Turkey.
As we have mentioned in our previous blog posts, pistachio trees take a long time to mature. Once you've found a reasonable bone-dry area for a pistachio plantation, it takes four to five years for the tree to begin bearing. Producing just a handful of nuts, in the beginning, it takes 15 -20 years to reach peak production.
The last but not the least, pistachios are "alternate bearing". That means one year the tree has a full production, followed by a year of lower production when it stores nutrition for the upcoming year.
To conclude, the process of growing and harvesting pistachios is a complicated, time and labour-intensive process. Therefore, the cost of producing pistachios is very high which makes our lovely Borna pistachio products very precious and relatively expensive.
Share your love of Borna by using our hashtag #nutsaboutborna. 
Inesa Slevaite, Marketing Executive at Borna Foods
---
References:
Elloumi, O., Ghrab, M., Kessentini, H., & Mimoun, M. B. (2013). Chilling accumulation effects on performance of pistachio trees cv. Mateur in dry and warm area climate. Scientia Horticulturae, 159, 80-8
[Albisu, L. M., & Gracia, A. (2001, May). Almonds and pistachios in the world market. In III International Symposium on Pistachios and Almonds 591 (pp. 139-145)
Spann, T.M., Beede, R.H. and DeJong, T.M., 2008. Seasonal carbohydrate storage and mobilization in bearing and non-bearing pistachio (Pistacia vera) trees. Tree physiology, 28(2), pp.207-213
[Panahi, B., Talaie, A., & Mirdamadiha, F. (2005). Determination of the best time of harvest in different commercial Iranian pistachio nuts. Options Méditerranéennes, Série A, 63, 215-219
[ROSECRANCE, R. C., WEINBAUM, S. A., & BROWN, P. H. (1998). Alternate bearing affects nitrogen, phosphorus, potassium and starch storage pools in mature pistachio trees. Annals of Botany, 82(4), 463-470.
---