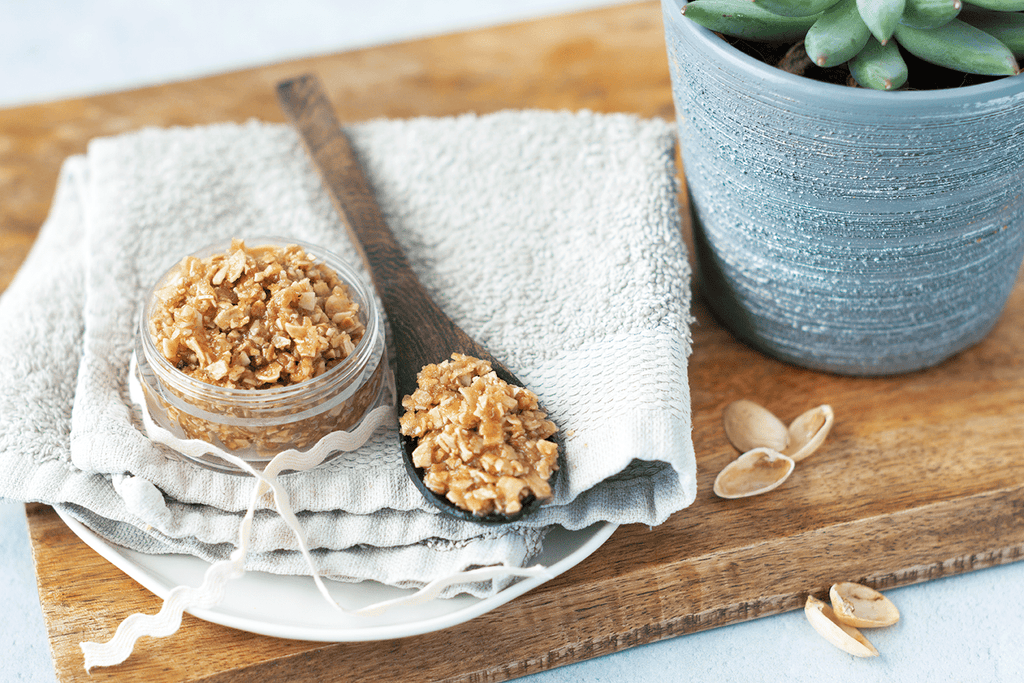 We're always trying to think of new way to recycle our pistachios shells. I've conjured up a pistachio foot scrub that is 100% natural and works wonders on your feet, making them one less thing to worry about this summer. When pistachios are ground down the become rough and make the perfect element for your pamper session. If you're not a ginger fan then you can swap it out for an essential oil.
What you'll need
50g Pistachios
50g Brown Sugar
2 tbsp Coconut oil
Thumb size piece of soft ginger
Directions 
♥ Place the pistachios shells between two tea towels. Next, roll up your sleeves as your going to have to use your muscles, with a rolling pin crush the shells by rolling the pin over the top them and by lightly bashing them.
♥ Once the pistachio shells are in small pieces add them to a pot and mix with the brown sugar and coconut oil.
♥ Peel the ginger and cut into small pieces. Grind down with a pestle and mortar and transfer to some paper towels. 

♥ Wring the water from the ginger and mix to the rest of the mixture.
Never forget to pamper yourself! Use our hashtag #nutsaboutborna to show us how you recycle your pistachios shells.
Emma Langston, Content Writer at Borna Foods
---