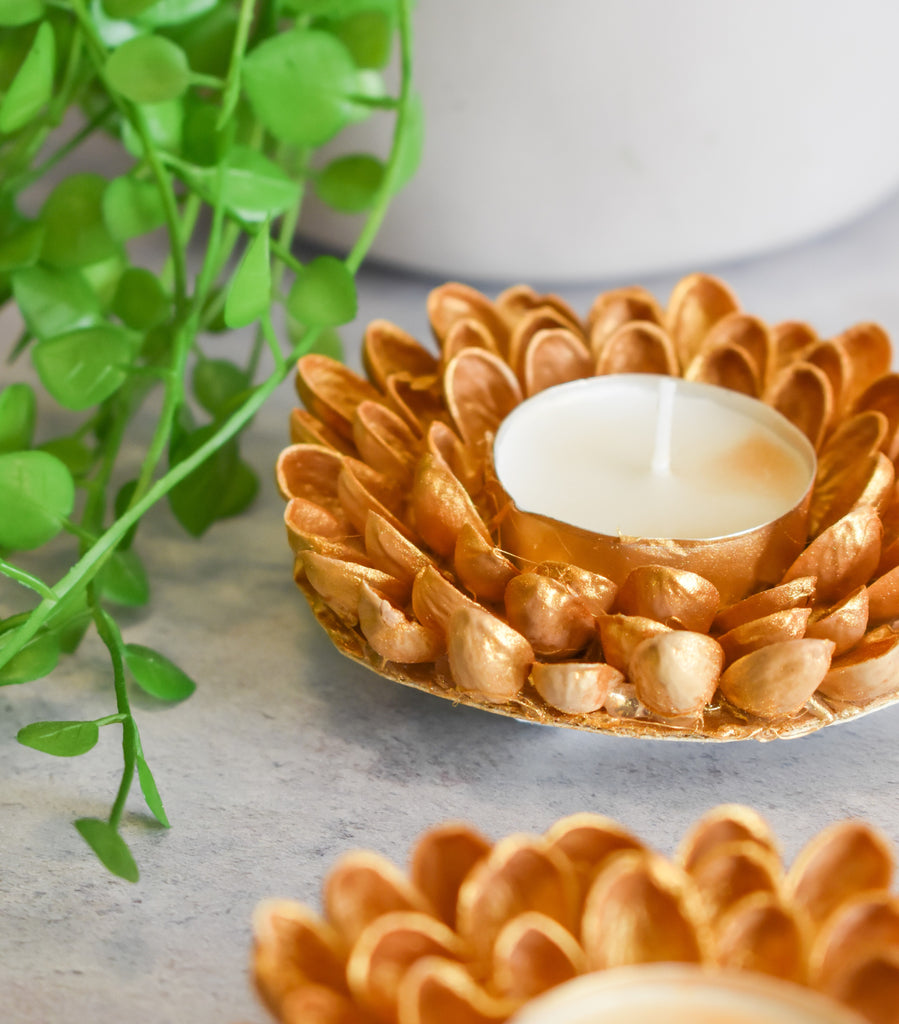 If you're a person that hates wasting any resources such as pistachio shells that have a lovely form, you came to the right place. WE HATE THAT TOO! Therefore, we want to teach you how you can make pretty things out of waste, without throwing the pistachio shells to the bin such as this amazing Pistachio Shell Candle Holder!
Since we love to make food out of our crazy delicious Borna Foods pistachios but hate to throw away their shells, we came up with the idea to make some great use of it! Please, welcome our amazing DIY pistachio shell candle holders.

P.S. You can also make pistachio shell lotus flowers instead. See the video below.
Materials:
♥ Pistachio shells
♥ Spray paint or acrylic paints
♥ Cardboard piece
♥ Tealight candles
♥ Hot glue gun
Instructions
The base:
The size of the base will depend upon the size of the candle you are planning to place inside. Use a compass or an alternative to draw the circle. Cut it out.
Place a candle in the middle of your circle and draw an outline of the tealight candle to make sure that your pistachio petals are glued right outside this circle and they form a good boundary.
Pistachio Shells:
Be sure to sort out and remove broken and unevenly looking pieces.
Remove any peels or flakes that are on the shell. Make it look nice.
Fun part:
Apply your hot glue around the inner circle on your cardboard.
Place the pistachio shells in a circle and just support them so that they stand straight while the glue hardens.
Allow it to dry while still supporting the shells to keep them vertical.
Proceed to the next row. Stick the pistachio shells around the first line side by side just like how you did the first one.
Once the candle holder is completed, apply a layer of glue at the edges, by turning the base upside down.
You can keep them in their natural colour, or you can spray them with any shade spray paint. In our case, we sprayed it with gold shade spray paint.
Once dried, place a cute tealight candle in the middle of a holder. Don't they look great?
Be creative and try our Pistachio Shell Candle Holder. Don't forget to let us know what you think! Tag us in your beautiful re-creation on Instagram or Facebook! Use hashtag #nutsaboutborna to be featured!
Subscribe to our newsletter and follow us on Instagram & Facebook for more DIY!
Inesa Slevaite, Marketing Executive at Borna Food
---