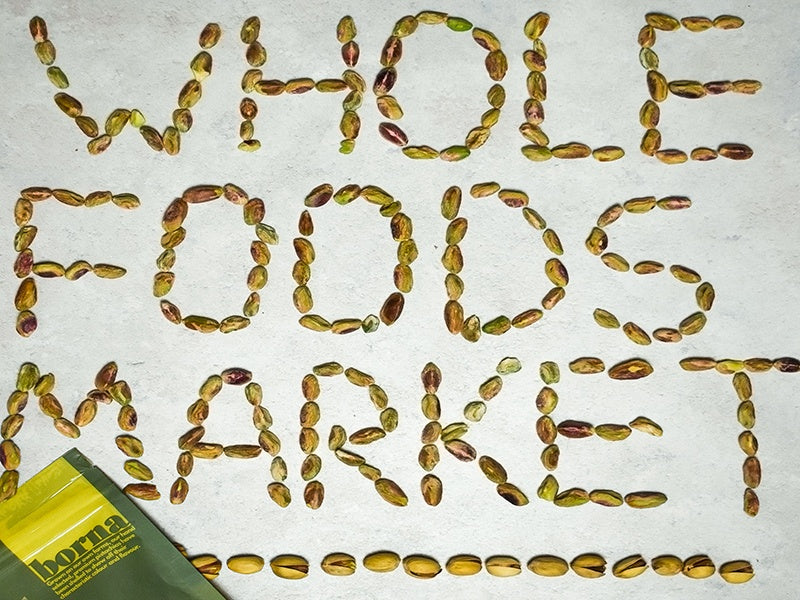 Looking for a snack pack of Borna Flavoured Kernels or a 100% Smooth Pistachio Butter? Don't go too far!

♥ We just love the companies who share our echos! ♥
Which is why we are so thrilled to announce our new partner – Whole Foods Market – where you can now find and buy Borna Foods products.
You can discover 7 Whole Foods Market shops around London. It means that you can enjoy shopping Borna Foods products in Clapham Junction, Camden, Kensington, Stoke Newington, Piccadilly Circus, Richmond or Fulham.* Doesn't this sound amazing?
We are extremely happy with our new stockist. Therefore, we would love to share a little bit about what Whole Food Market is.
To start with, Whole Food Market was founded in 1980, Texas.  The wholesalers supply customers all over the US, Canada and the United Kingdom. Hooray! Whole Foods Market shops are stocked full of highest quality natural and organic products as well as free from artificial colours, flavours, preservatives, sweeteners and hydrogenated fats. Also, the shops are full of exciting smells, colours and inspiration. The company's product selection is extremely wide. It includes grocery, meat, seafood, prepared foods and catering, bakery, coffee, tea, wine, beer, cheese, vitamins, nutritional supplements, body care, and lifestyle products including pet products, books, and household products. The company buys its products from local producers whose products meet its high-quality standards, particularly those who are dedicated to environmentally friendly, sustainable agriculture, such as our lovely Borna Foods! What's the most important, WFM satisfies, gratifies and nourishes its customers!
Great food & great service – can't be any better! So, go and check out our Borna Foods products that are waiting for you on shelves at lovely Whole Foods Market. See you there!
*It might take a couple of weeks for our products to be in stock in all Whole Foods Market stores but keep on checking!
Who would you like to add to our stockists? Let us know using our hashtag #nutsaboutborna
Inesa Slevaite, Marketing Executive at Borna Foods.
---