SIAL Innovation Award Winners
---
Sep 27, 18
|
Pistachios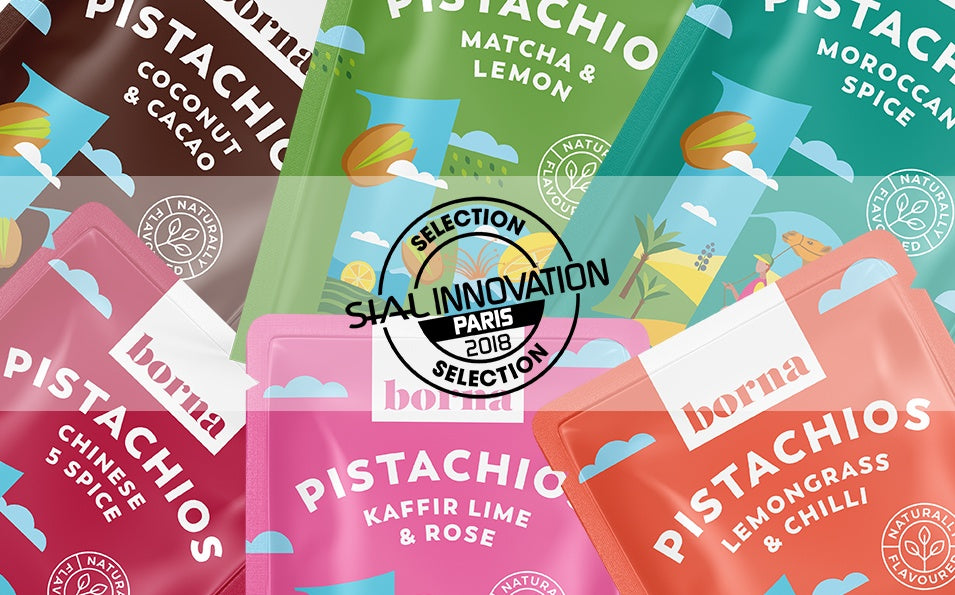 We're ecstatic to announce that we have won a SIAL innovation award, not only for our delicious line of pistachio butters, but for our uniquely flavoured pistachio kernels as well!
If you haven't noticed already, we've brought out 6 new naturally flavoured pistachio kernels that come in 25g snack packs. Each of the 6 flavours are distinctively different and creatively flavoured, you'll find it hard to choose a favourite.
Our nutritious & delicious line of Pistachio Butters include:
Smooth 100% Pure Pistachio 
Crunchy 100% Pistachio 
Sweet Roast Pistachio
Seedy-Kick Pistachio
Rich Cacao Pistachio
Coco-Nutty Pistachio
Feast your eyes on our beautiful new Flavoured Kernels range:
Lemongrass & Chilli
Chinese 5 Spice
Moroccan Spice
Kaffir Lime & Rose
Coconut & Cacao
Matcha & Lemon
So, What is SIAL and what's award about?
SIAL (Salon International de l'alimentation) is an international food exhibition held in Paris. This exhibition is the largest food innovation exhibition of its kind, it's so large that it lasts for 5 days every 2 years. During the exhibition, you'll find a wide range of food products, from cheese to tea. SIAL has been around for 54 years with only 26 countries taking part in the first fair. Since then the exhibition has massively grown in popularity with 155,700 visitors and 194 counties exhibiting in 2016.
The SIAL innovation award is a massive achievement for a company to win. The award is dedicated to the discovering of new exciting, innovative products. After the Grand Jury has tried and tested all the entered products, the best products are selected. Exhibitors whose new product was chosen will receive a trophy during the SIAL Innovation Gold Award Ceremony that takes place at every exhibition.
We can't put it into words how happy we are to receive this award. "Cheers! To the new Naturally Flavoured Snack Packs"
If you've brought a new flavoured kernel snack pack why not take a piccy and tell us what you think by using our hashtag #nutsaboutborna
Emma Langston, Content Writer at Borna Foods
---