Rich Cocao Pistachio Butter - Chocolate Nut Butter
---
Jul 19, 18
|
Health
Pistachios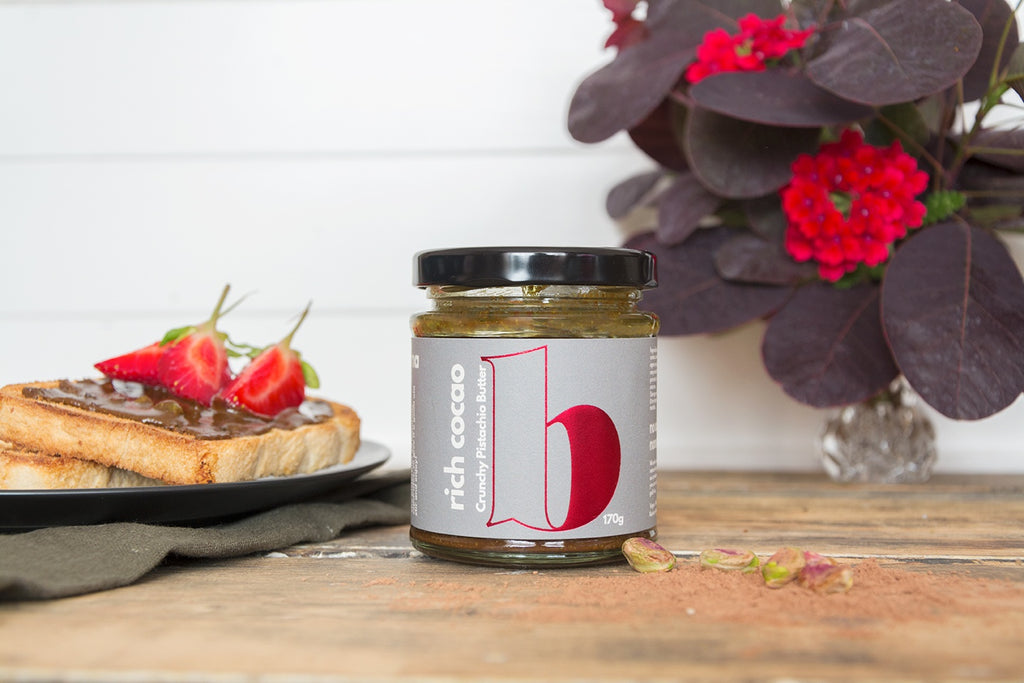 What's the best nut butter for a Chocolate lover? The answer, It's definitely our Rich Cocao Pistachio Butter. We've blended Cacao, Pistachios, and Agave syrup together, and then hand stirred in Cacao Nibs and Pistachio pieces to give this nut butter a good-old crunch. Spread onto toast, mix into a brownie batter or spoon straight into your mouth, the list is endless! This nut butter is naturally sweetened is bursting with health benefits – it's too good to be true! Below is a list of some of the ingredients* that's in this heavenly nut butter and the nutritional benefits of each one.
Cacao powder & nibs
Pronounced 'ka-kow'
Cacao is a bean-like seeds which is used to create cocoa, cocoa butter, and chocolate.
♥ Flavonoids
Flavonoids are a type antioxidant, and they're shown to aid in lowing the risk of cancer, heart disease, asthma, and stroke.
♥ A Healthier Heart
Studies have shown that subjects who consumed cacao had lower blood pressure and less likely to die from cardiovascular disease than those who did not consume cacao.
♥ Fat Fighting & Fibre Packed
On top of their disease-fighting powers, cacao nibs may help you maintain a healthy weight if you incorporate it into your healthy diet. Cacao is also full of Fibre, which slows digestion, meaning you'll be fuller for longer.
Agave
Head over to sweet roast to find out a little more about agave.
*We also added coconut oil and salt to this nut butter to make it smooth and salty. If you haven't already read about the many health benefits that our Pistachio Butter has, then read here.
We want to know what you've been doing with our pistachio products, remember to use our hashtag #nutsaboutborna!
Emma Langston, Content Writer at Borna Foods
---