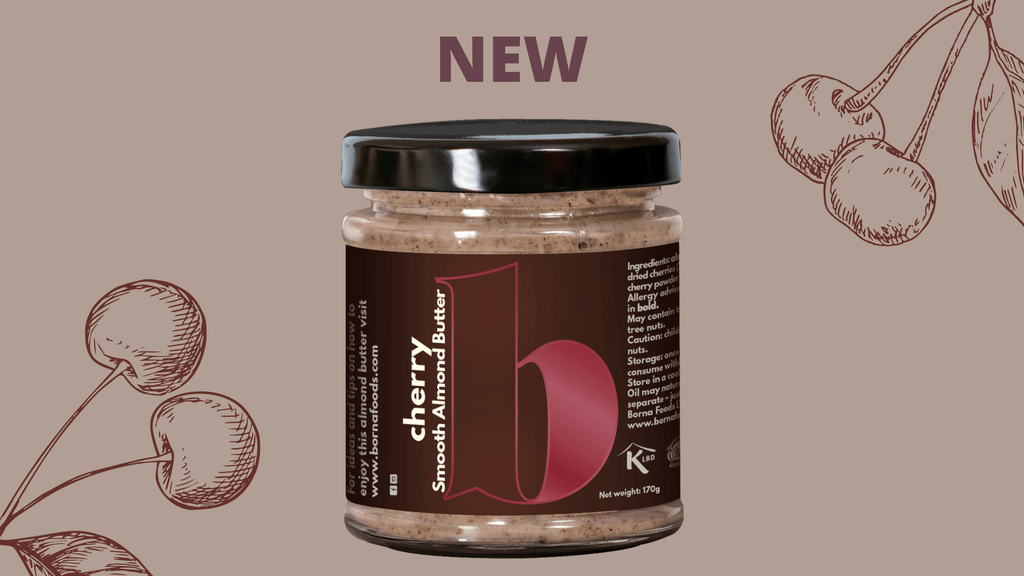 Our premium cherry almond butter is a spread made from 88% almond nuts and 7% dried cherries and it's available in smooth consistency. With no added sugar, oil or salt, the nuts are roasted, then ground to produce a perfect texture. 
Read more about the health benefits of almond nuts cherries below:  
 ♥ Super Food – Some studies present that cherries are particularly beneficial as they're rich in nutrients and compounds that are known to promote heart health, including potassium and polyphenol antioxidants.
♥ Boost Exercise Recovery – Research shows that the anti-inflammatory and antioxidant compounds in cherries may help relieve exercise-induced muscle pain, damage, and inflammation
♥ Packed with Nutrients – Cherries are also a good source of fiber, which helps keep your digestive system healthy by fueling beneficial gut bacteria and promoting bowel regularity. Plus, they provide B vitamins, manganese, copper, magnesium, and vitamin K.
This cherry almond butter available in smooth can be enjoyed on its own or in many dishes. Dollop on your breakfast, stir into a cake mix, bake into a pie or grab the jar and spoon for a guilt-free midnight snack.
Note that this article is not intended to replace medical or nutrition advice from your medical doctor or dietitian. Please discuss changes in your diet with a registered professional.
Go to our Shop page and be one of the first people who try this smooth cherry almond butter!
Please don't forget to subscribe to our newsletter and follow us on Instagram & Facebook for more product updates!
Inesa Slevaite, Marketing Executive at Borna Foods
---