Great Taste Awards 2019 Results are in!
---
Aug 05, 19
|
Pistachios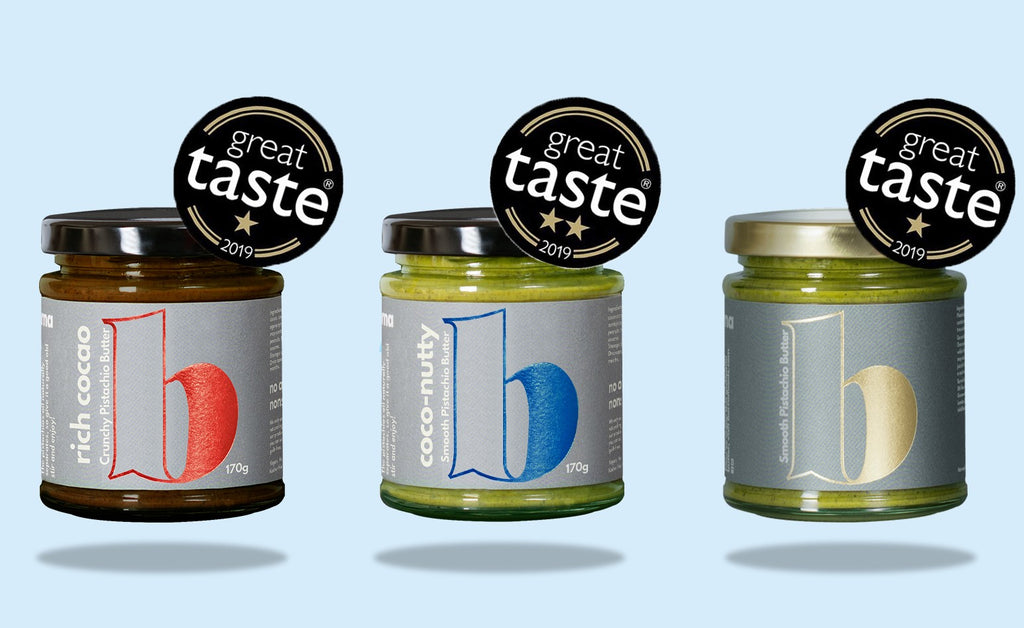 The results are in! We're delighted to announce that our premium pistachio products have won 3 new Great Taste Awards!
– Coco-Nutty Pistachio butter – 2 stars 2019, which means that judges labelled it above and beyond delicious!
– Rich Cacao Pistachio Butter – 1 star 2019, which means that it delivers fantastic flavour!
– Smooth 100% Pure Pistachio Butter – 1 star 2019
Over 500 judges working in small teams judged 12,772 food and drink products this year at 65 judging days, from March through to early July 2019. They left so many good comments about our pistachio butters:
"A gorgeously green butter with an appealing natural aroma. The texture is thick and would spread well, we feel. A lasting pistachio flavour comes through, as does the mellow, unsweetened flavour of coconut."
"Vibrant, emerald green, thick and creamy. This butter has a gently nuanced flavour of roasted pistachios that have been well processed. "
"A thick, glossy butter with a consistency that would be perfect for spreading. The nuts themselves are chunky and crunchy as described and make for a seriously enjoyable mouthfeel. "
We can't put into words how happy we are to receive this award.
What is a Great Taste Award?
Great Taste is the world's largest and most trusted food and drink awards.
After companies put their drink or food to the test with the panel of 500 experts, they receive a honest, straightforward and impartial feedback from chefs, buyers, food writers and retailers. Whether the product receives a 1-, 2- or 3-star accolade, Great Taste stars are highly respected seals of approval.
A one, two or three-star accreditation means that the product will stand out on the overcrowded retail shelves. Quite simply Great Taste encourages greater confidence and commercial success in small businesses locally, regionally, nationally and internationally whilst helping to improve the food and drink of those who don't quite make the grade.
Thank you very much for reading our news and don't forget to subscribe to our newsletter and follow us on Instagram & Facebook for more product updates!
Inesa Slevaite, Marketing Executive at Borna Foods
---