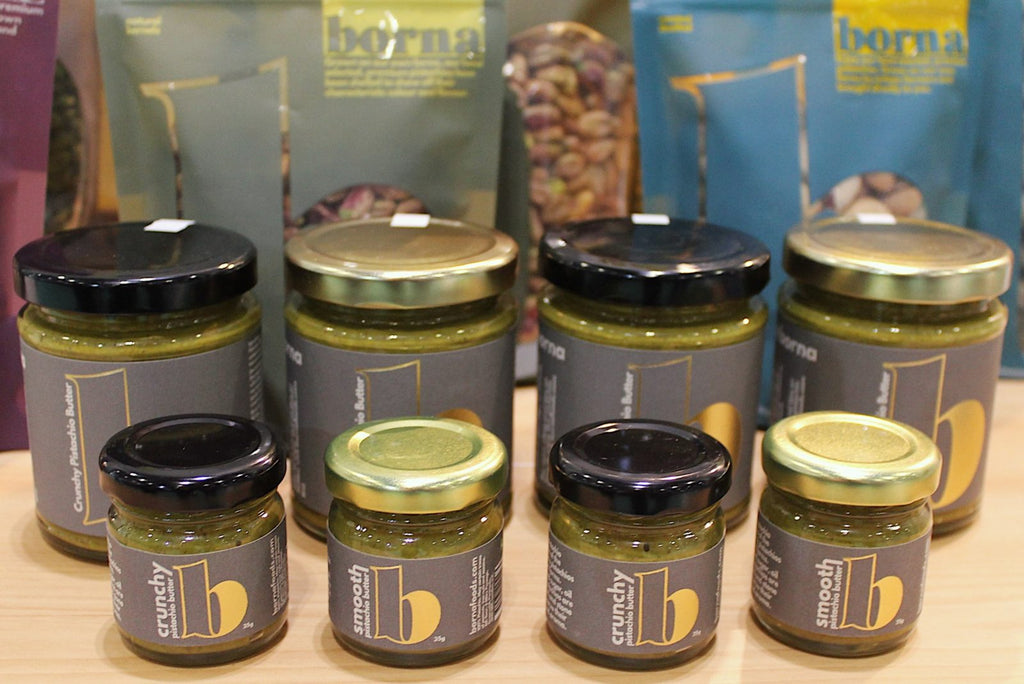 Our luxuriously intense Pistachio Butter contains no sugar, no salt- just 100% of our premium pistachios that have been lightly roasted, and stone-milled by hand.
Available smooth or crunchy, this indulgent yet nutritious butter can be enjoyed on its own or in many dishes. Our pistachio butters are lovingly made and packed in the UK in small batches to ensure the highest quality. Stone milling our pistachios by hand is better than blades, as less heat is generated in the process which preserves more nutritional value as a result.
Bursting with nutritional goodness, here are some guilt-free reasons why you should enjoy pistachio butter:
♥ Heart Healthy- Pistachios are a great source of monounsaturated fatty acids which can help to lower blood pressure. These healthy fats can reduce bad cholesterol also known as low-density lipoprotein (LDL) cholesterol, reducing the risk of heart disease.
♥ Immune Boosting- Our butter is rich in copper, magnesium, and B vitamins. Vitamin B6 is vital for keeping the immune system functioning properly and to effectively fight infections.
♥ Stress Busting- With more potassium than a big banana, pistachios are a source of the vital stress relieving antioxidant. Potassium helps regulate various stress hormones in your body, including cortisol and adrenaline, which in excess amounts can be detrimental the body's systems.
♥ Sugar Level Controlling- As a source of dietary fibre, pistachios can aid weight loss, and improve bowel function.
♥ Skin Enhancing- They can enhance skin complexion due to rich levels of vitamin E.
♥ Protein Packed- Essential for building and repairing tissues, you'll be happy to know that our pistachio butter has 4g of protein per 20g serving. What's more- it's vegan and vegetarian-friendly.
Take a look at our shop, to see our 170g and 35g jars. Don't forget to share your thoughts or how you enjoy our pistachio butters using the hashtag #nutsaboutborna
Ciara Simpson, Content Writer at Borna Foods 🙂
---