♥ Reasons to Try Pistachio Drink ♥
---
Aug 28, 19
|
Pistachios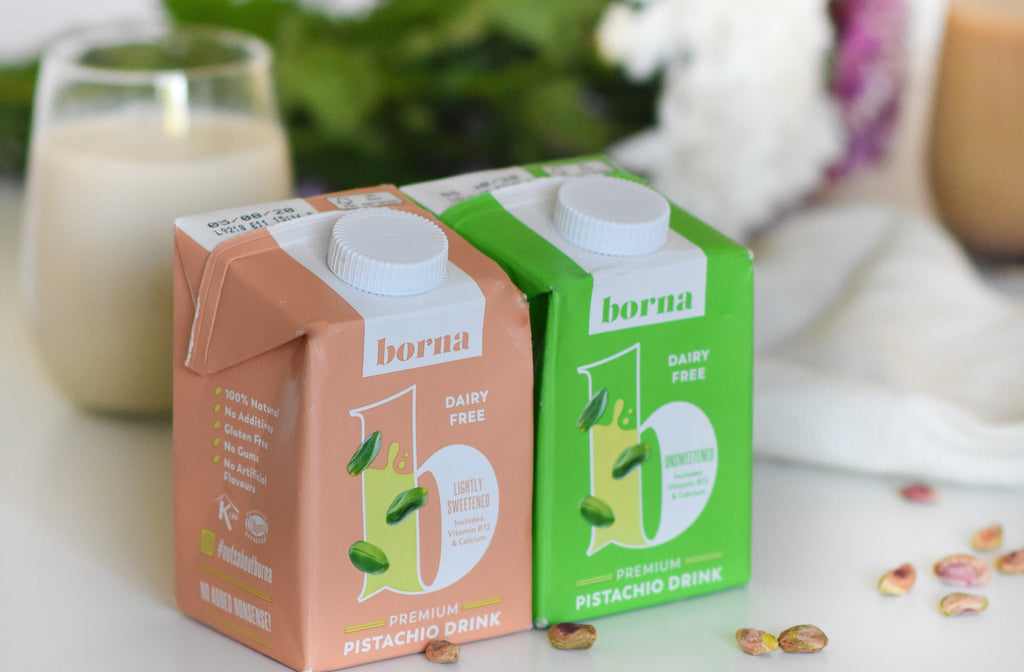 By now, you've surely heard that the demand for dairy milk has nearly come to an end as people now prefer vegan drinks such as soy, coconut, and almond milk and from now – pistachio drink.
Probably many wonders about the benefits—and the costs—of swapping your cows' milk or non-dairy milk habit for a pistachio milk fix. We're here to give you the facts and persuade you to start to drink PISTACHIO DRINK today!
♥ The pistachio milk constitutes an excellent healthy drink,
thanks to the different healthy fats that brings this delicious nut, being rich in monounsaturated fats and oleic acid.
♥Our drinks are made using the entire nut.
That means there's no waste and you get up to four times the number of nuts in your milk compared to other brands. But that's not all: we do not use any icky stabilizers, gums, lecithin or extracts either. This clean cooking approach allows us to create our pistachio drinks using 4 ingredients or fewer.
♥ In terms of nutrition, pistachios bring powerful nutritional profiles to the table.
Pistachios are packed with more potassium and vitamins K and B-6 than almonds, and boast 6 grams of protein per ounce, making them one of the best-ever high protein foods for metabolism.
It is also rich in antioxidant nutrients like carotenoids and phytosterols, which means that it provides benefits not only antioxidants, but also anticancer and rejuvenating.
It's interesting milk and not only as an alternative to cow's milk, but as a traditional remedy for high cholesterol and triglycerides.
♥ Find other health benefits that added Calcium and Vitamin B12 bring to the drink here.
Go to our Shop page and be one of the first people who try the drink!
Please don't forget to subscribe to our newsletter and follow us on Instagram & Facebook for more product updates!
Inesa Slevaite, Marketing Executive at Borna Foods
---