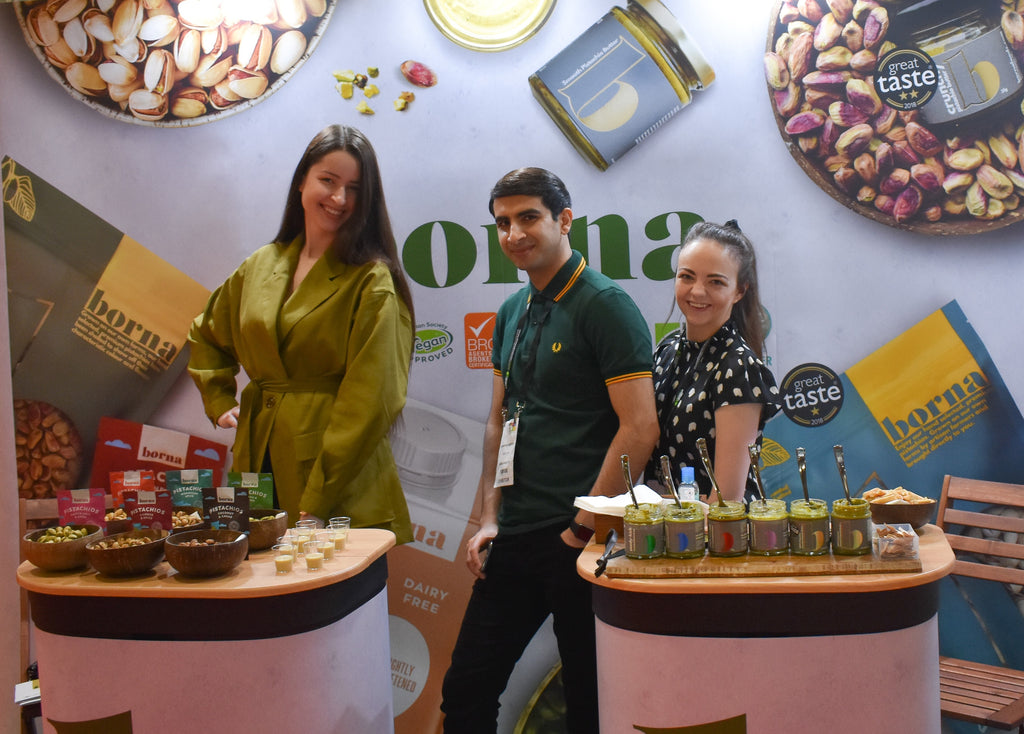 This week we were headed over to ExCel London for the Natural & Organic Products Europe 2019 feeling pumped and ready for the next couple of busy days ahead of us.
Natural & Organic Products Europe is the industry event of the year, attracting visitors from all across Europe. The show is No.1 opportunity to stock up on the best choice of quality natural, organic, Fairtrade, sustainable, ethical, free-from, eco and healthy-living products from over 700 hand-picked suppliers, including Borna Foods. 
The lucky people who attended the exhibition were able to try our new products that are in the final stages of development, and let us tell you, they're soooo tasty. We are so happy with everyone's positive comments; some people even came back to have another try!
You'll have to keep an eye out as they will be coming out very soon!

the ⭐ of our stand 
Not only did we have our new product range for everyone to try but we also had our pistachio butters and flavoured pistachios available to try too! Everyone was blown away by our 100% pure pistachio butter that's made right here in the UK, which comes in smooth and crunchy and also the flavoured pistachio butter range. We spoilt everyone rotten and were even offering samples of our pistachio butters at the end of the show!
thank you!
During the NPE2019, we met some amazing people who we can't wait to work with or see munching on Borna's pistachio products. We had a fabulous time and we can't wait to return! We have lots of new and exciting things coming your way, there's no time for rest here at Borna HQ.

Keep an eye out for our new products by adding us on Instagram and signing up for emails. If you have any photos of our stand or pictures of the show tag us using our hashtag #nutsaboutborna. We'd love to see them!
Inesa Slevaite, Marketing Executive at Borna Food
---